Polygon Network Backs Impending Ethereum Merge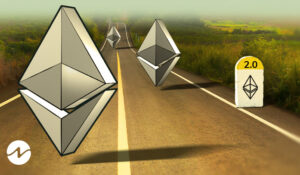 The cryptocurrency industry as a whole will benefit from the Ethereum Merge. 
The last significant update before the transition, Bellatrix was completed.
According to Polygon Network, the impending Ethereum Merge will eliminate almost 99.1 percent of the network's carbon footprint. With the impending Merge, it will be significantly less harmful to the environment.
According to the company:
"The Merge is estimated to cancel out a whopping 99.91% of Polygon's network carbon emissions, reducing the annual total to just 56.22 tCO2e."
The goal of the Merge is to cut Ethereum's power usage by 99.99%. It has been determined by the Crypto Carbon Ratings Institute (CCRI) that the bulk of emissions from the Polygon chain come from the chain's operations on the Ethereum foundation layer (99.92%). After deducting external emissions, the research finds that Polygon's PoS network is responsible for 50.13 tCO2e.
Countdown Begins
The network's efforts to lessen its environmental impact were first reported by Polygon earlier this year. According to a CCRI projection, Polygon's yearly carbon emissions until July 2022 were 60,953.26 metric tonnes of carbon dioxide equivalent (tCO2e). This amounts to a total of 94,782 tCO2e in emissions from the whole supply chain.
To sum up, the cryptocurrency industry as a whole will benefit from the Ethereum Merge. Polygon's Sustainability Lead, Stefan Renton, has remarked, "We believe that operating responsibly is just the starting line."
The long-awaited merge of the Ethereum network began early on Tuesday morning, when its core engineers activated Bellatrix, the last significant update before the transition. The merging, an update that combines the Ethereum beacon chain with its mainnet, will enable the network to go from a proof-of-work system to a proof-of-stake blockchain, which uses far less energy between Sep 15 to 30.
Recommended For You:
Ethereum Successfully Deploys Long-awaited Bellatrix Upgrade